Swim Week Dispatch
Day two of Mercedes-Benz Fashion Week Swim brings a bridal suit and tropical trends.
July 20, 2011
Poko Pano
The "Girl from Ipanema" has landed in Miami, thanks to Poko Pano designer Paola Robba. Models for the brand sauntered down the runway like Carmen Miranda in pineapple prints and tropical colors with flowers in their hair. Poko Pano's woman is minimalist when it comes to her embellishments and the suits reflected a sophisticated yet effortless style sensibility. Trimmings were kept simple while the focus stayed on cuts and prints. One might have to spend a little extra time at the gym to wear the line's sexy cut bottoms which left little to the imagination, though. As for cover-ups they went from long and neutral to short and colorful with bright prints. One of our favorite suits was a tankini with a twinge of glamour lent by a corset top. Overall, the show was a breath of fresh air chock-full of flattering, fun pieces that were sexy and playful while still being elegant enough to sport beside any upscale beach or pool.

Click here for video from the Poko Pano 2012 Mercedes-Benz Fashion Week Swim show
Beach Bunny
The name alone reminds us of Playboy bunnies, so it's no surprise that Beach Bunny was perhaps the raciest show of Fashion Week Swim with models walking the runway in boudoir-inspired bikinis. Model Kate Upton jiggled and giggled her way down the catwalk, earning roars of applause from the crowd. While the red-lipped vixens in glittering suits were fun, it was the bridal collection finale that brought the house down. Ms. Upton walked out in a throwback bridal bikini, which must have been inspired by Madonna's "Like a Virgin" getup, and played the role of the ever-so-attention-loving bride. Women in search of glittery, risqué suits will most definitely be sporting Beach Bunny next season.

Click here for video from the Beach Bunny 2012 Mercedes-Benz Fashion Week Swim show
L*Space by Monica Wise
Billowy tube top-style belted one-pieces and lace-back tops reigned supreme at L*Space by Monica Wise. The spring 2012 designs will definitely appeal to jetsetters with trunks of fringed tops, draped maxi skirts, tribal prints and wide brim fedoras. From undone rompers with crochet finishes to lace shorts, the first half of the collection spanned all things resortwear while an intermission featuring two scantily clad Samba dancers provided a segue for the show's next phase. Onlookers were then transported to the tropics with every model sporting actual sand on their derrières, as a nod to how authentic this beach bum attire can actually get.—CHRISTINE BORGES
Click here for video from the Beach Bunny 2012 Mercedes-Benz Fashion Week Swim show

Wildfox Swim
Wildfox is all about the little details. Zipper-back swimsuits, high-waisted sailor bottoms and neon two-pieces grabbed our attention while small, topsy-turvy floral prints and underwire bralette tops spoke to vintage lovers. Horses also seemed to be a big theme in the brand's resort 2012 collection, as were animal prints and entire star constellations. Ruffles and lace were added as accents and proved a risk worth taking for the brand's new swimwear line.—C.B.
Click here for video from the Wildfox Swim 2012 Mercedes-Benz Fashion Week Swim show
photographs by Frazer Harrison/Getty Images for Mercedes-Benz
Lisa Pliner Suits Up
A post-catwalk chat with the venerable shoe designer during Mercedes-Benz Fashion Week Swim.
July 19, 2011
| | |
| --- | --- |
| | |
| Pliner at the Nicolita Swimwear show | |
Not even dark storm clouds, considerable humidity and a little liquid sunshine could dampen Monday's Nicolita Swimwear runway show, where special guest Lisa Pliner, designer of Lisa for Donald J Pliner, walked the catwalk without apology.
With the beautiful Raleigh Hotel as the backdrop, the event was the genius of Nicolita designer Nicole Di Rocco, who handpicked Pliner for the show's femme fatale finale. Pliner's specially designed jet-black swimsuit was nothing short of stunning. After the show—in a kick-off-your-heels-and-tell-it-like-it-is discussion—Pliner shared insights on fashion, footwear, being forty-plus and why Miami is not Milan.
How did you become so intimately involved in this show and do you think it makes a statement about age and the fashion industry?
LISA PLINER: The Nicolita collection is as beautiful and dynamic as the designer who created it, Nicole Di Rocco. [Nicole] approached me with the idea of walking with the other girls and I saw it as a wonderful opportunity to remind women, and men, everywhere that sexy is not just a twenty something phenomenon. I am 47 and I still feel sexy. I hope that my involvement—in a bathing suit—will send a positive message. And what better way to make my point than to walk the walk?
Is being a part of a show where your shoes are featured breaking any rules?
LP: I am not one who is known for breaking the rules—that's just not my style. But, if you must know, I make the rules.
As someone who lives, works and raises a family in Miami, what are your thoughts on the local fashion culture?
LP: Everyone is entitled to his or her opinion. But for me Miami is not Paris or Milan. But Paris and Milan is not Miami, nor should we even compare them. This city is vibrant, colorful and full of diversity. It is a city that has sabor and it makes no apologies. Miami is enigmatic, can leave you speechless and is never at a loss for words.
—Joshua Estrin
About Face: Make Up For Ever
Make Up For Ever makeup artist Damian Castellanos gives tips on how to achieve the perfect summer makeup trends.
July 18, 2011
Make Up For Ever—the official makeup of Mercedes-Benz Fashion Week Swim—makes a splash when it comes to head-turning looks. We caught up with Make Up For Ever artist and educator Damian Castellanos for advice on how to execute the hottest makeup trends of the summer.
Neon Brights
Get The Look: Apply a thin swipe of black liquid liner along the upper lash line, following the natural shape of the eye. Choose your favorite shade of neon—pink, purple, turquoise—and draw a slightly thicker line just above the black liner. The line should increase in thickness at the outer corner of the eye, so if needed you can go back to the center of the eye and apply additional liner moving outward. The end result is a modern yet sophisticated look that adds just the right amount of color to the lids. For those who are color shy, the trick is to focus on one feature, either the eyes or the lips. Choose a flattering shade of bright pink lipstick and pair it with more neutral eye makeup, or try a bright green or turquoise shadow on the lids and a glossy nude lip.
Yellow Lids
Get the Look: If you choose yellow, you want the color to look rich. Stay away from pastels. Deeper skin tones look best in warmer yellows that have a slight hint of orange (such as marigold) while fairer skin tones look great in shades of canary or lemon. When it comes to yellow less is more, so apply to the lid but stay away from the crease.
Barely-There Makeup
Get the Look: The biggest misconception about the no-makeup look is that it requires only moisturizer. You need a handful of products to really perfect the look. Start with a lightweight, water-based foundation, which will help the skin look supple and naturally healthy. Using a contouring powder or bronzer, highlight the cheek bones to add some dimension to the face. Next apply a neutral taupe eye shadow all over the lid to the brow bone, followed by a coat of black mascara. Finish with a nude pink lip. (If the lip is too pale it will wash out the entire face.)
Orange Lips
Get the Look: Deeper skin tones are ideal for a true shade of orange. Line and fill in the lips with a vibrant orange liner, and then apply a matching shade of lipstick. (Filling in the lips with liner helps the lipstick stay put longer.) If you have fairer skin, a shade that is a bit more red or rusty orange—or even peach or coral—will work best.
Glowing Skin
Get the Look: I recommend a cream-based luminizer to highlight the skin. For cheeks choose a golden or bronzy pink shade and apply using a brush starting from the lower cheek bones all the way up to the temples. Finish the look by applying to the brow bone. Finish with a neutral eye shadow, a swipe of mascara and a nude glossy lip.

—Christine Borges
Swim Week Dispatch
Day one of Mercedes-Benz Fashion Week Swim draws a crowd.
July 18, 2011
photographs by Frazer Harrison/Getty Images for Mercedes-Benz; Michael Buckner/Getty Images for Mercedes-Benz (models posing; The Raleigh)
Summer Style by Matthew Williamson
Choose from three of our favorite Matthew Williamson looks for summer.
July 15, 2011

FROM LEFT: Butterfly degrede jumpsuit ($765); mirror ikat harness silk racerrback long dress ($1,915); mirror ikat silk kaftan ($1,015)
We love Atrium's latest Matthew Williamson line. 1931 Collins Ave., Miami Beach, 305-695-0757
A Standard Weekend
Celebrate Mercedes-Benz Fashion Week Swim with new shoes at The Standard.
July 15, 2011
It's Mercedes-Benz Fashion Week Swim, and while we know the focus is on next season's bathing suits, you can put this season's suits to good use at Native Swim hosted by Native Shoes on Saturday, July 16 at The Standard. The party promises a great time with Cuban barbecue, tropical cocktails and DJs Mia Moretti and Induce. Don't be late—the first 100 guests will receive complimentary Native Shoes. (5 PM) The Standard, 40 Island Ave., Miami Beach; RSVP to swim@nativeshoes.com.
Questions With: Arlene Tur
Miami native Arlene Tur goes sci-fi with her turn as a tough doctor in the series Torchwood Miracle Day.
July 12, 2011

Arlene Tur
You might remember Arlene Tur from her role in Eat Pray Love, when the Latin beauty lit up the screen playing a Brazilian named Armenia with a thirst for life and good hair-care products. Now you can catch Tur on the new sci-fi series Torchwood Miracle Day, where she plays the smart, strong Dr. Vera Juarez. We sat down with her to chat.

Tell us about Torchwood Miracle Day.
AT: Torchwood is a secret service in charge of keeping humans unaware and safe and it is led by an immortal. In the latest series, Torchwood comes stateside because on Miracle Day people stop dying. I play a cardiothoracic surgeon who saves Mekhi Phifer's character.
Are you a sci-fi fan?
AT: I have fallen in love with sci-fi. There really are no rules. There's… no telling what can happen on any given day on set. Another exciting element... is that as an actor you are pretty much at the mercy of your writers' imaginations. Thank God we have a great writing team and the brilliant Russel T. Davies as our captain! He is a true genius at his craft, and it was a great pleasure and a career high working him.
How are you similar to your character?
AT: She's a very determined individual. And although she's very compassionate, Dr. Vera Juarez doesn't take no for an answer
What was it like working on Eat Pray Love?
AT: How could you not love working in Bali with Julia [Roberts] and Javier [Bardem]? They're wonderful, educational—such a joy.
In the film your character gives beauty secrets and life advice. Do you?
AT: I love coconut oil for face and body. Also I am a reapplier. Throughout the day I tend to reapply moisturizer and sunblock, especially now that it's so sunny and bright in LA. Being from Miami I miss the heat and the humidity so much! Lastly I'm a firm believer [in] dressing expressively but comfortably.
If you had to choose three destinations to go to for a year, what would you choose?
AT: You're going to think I'm lying but definitely India, Italy and Indonesia—triple "I"s. I've traveled many times to Italy and speak the language, but I still feel like there's so much to learn and explore. Traveling to India on a mission's trip with my church was outrageous. The people are genuinely lovely, and you've never seen a place so colorful. And there's something to be said about the shock value. You can see many things in India that we Americans couldn't even imagine. I love photography, and it's undoubtedly a photographer's paradise. And finally Indonesia—one of my bucket-list items is to try and sail all the Indonesian Islands. There are 17,508 of them.
Speaking of travel, what are your summer essentials?
AT: Sunglasses, a big hat, a volleyball, great books, great music, a journal and a bed on the beach at The Delano.
Where do you hang out when you come home to Miami?
AT: A lot of dinners at family homes, and I love Casa Tua. I spend a lot of time with friends but if I go dancing it's at Liv or Mynt.
And what do you miss about Miami?
AT: Everything: people, culture, music, heat, humidity. But what I miss most [is] family, friends, weather, dancing and food. There's no good Cuban food in LA.
When in Roam
Hop on a Vespa and tour the Wynwood Art District with Roam Rides.
July 11, 2011
Between Art Basel and the Wynwood Art District, Miami is one of the most coveted locations for the astute aesthete. That is why we are so excited for the Miami Art Tours hosted by Roam Rides, which specializes in Vespa scooter rentals. Choose from three tours, each focusing on a different aspect of a neighborhood's art. A street artist guides the Street Art tour, which focuses on how to identify different types of street art. The Gallery tour features a more customized experience led by Tomm El-Saieh of Tomm El-Saieh Presents, who allows for access to the most exclusive galleries and private dealers. And the Collections tour allows you to scope out one of the major collection houses of either The Margulies, The Rubell or The De La Cruz Collection. Each tour ends at Morgans Restaurant for brunch or lunch.
—Vanessa Martin
Ulysse Nardin's Caprice Precious Panda
The watch brand unveils a darling diamond encrusted keepsake.
July 09, 2011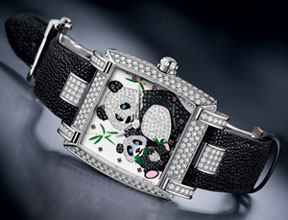 Hot on the heels of the wonderful Caprice Tiger that Ulysse Nardin released to the world last year, the brand now unveils its adorable precious Caprice Panda watch. The panda, beloved for its distinctive black and white beauty and serene majesty, is an honored treasure – intriguing all who have the privilege to see one for real. A symbol of strength and resilience, the gentle bear reigns as a creature of mystery and awe – and now lives on timelessly in a stunning version interpreted on the wrist like only Ulysse Nardin can do in the Ladies Caprice Panda in 18-karat white gold.
Depicted seamlessly in black and white diamonds, a mother panda and her cub feast on bamboo, their favorite treat. Pink colored rubies mark the hours. The watch houses a UN -13 self-winding movement with diamond-set rotor in 22-karat gold and features a sapphire crystal caseback for viewing the meticulously finished components. The watch is offered with either a partially diamond-set version with 184 diamonds on a leather or galuchat strap for $43,300, or a full-set diamond case with 352 diamonds with alligator or stingray strap ($55,300) or with white gold bracelet ($72,300). Just 28 pieces will ever be made for worldwide distribution. This watch is a real wonder to behold. 7900 Glades Road
Read more about watches from our timepiece editor Roberta Naas at atimelyperspective.com.
—Roberta Naas
Questions With: Nancy Whang
Nancy Whang, former member of the band LCD Soundsystem, talks DJing and her preparation for a new solo career.
July 08, 2011

Nancy Whang
The dance and indie music worlds mourned when James Murphy, the frontman of LCD Soundsystem, announced the permanent termination of his dance-punk band. That is until Nancy Whang, the group's keyboardist, synth player and backup vocalist, reappeared in the limelight. Now in a transition period, she is experimenting with DJing—one of her first sets was at our beloved Art Basel last December—and she is doing another this Saturday at The Electric Pickle. We caught up with Whang recently to hear all about her solo career, being home in New York for a bit and what fans can expect on Saturday.
How have things been for you since LCD Soundsystem broke up?
NANCY WHANG: It's been good and strange, I guess. I think I'm still transitioning. I haven't really gotten to the place that I'm moving toward yet, but I feel good about things. I'm not up to much at the moment except for DJing a little a bit. I think it's good to take some time off.
You are DJing on Saturday—will you actually perform?
NW: No, I'm just DJing the party at Electric Pickle. Art Basel was actually one of my first DJ sets. I've been doing it a lot more recently, but I'm still pretty new at it. I'm learning the ropes. I'm starting to have fun.
You said in an interview once that you could never DJ. What changed your mind?
NW: Having LCD finishing, trying to figure out the next phase. In the interim I need to stay busy, active, relevant…so it's a good way to earn a living. And it's fun and it keeps me busy. I can still travel places and go to parties.
Will you be playing any songs from your previous bands on Saturday?
NW: No, I don't really like doing that. It seems a little too vain. Not that I really have a problem with vanity or anything like that but I feel a little self-congratulatory I guess. Plus there's other music out there that's great.
So what can fans expect to hear from you?
NW: Some fun jams, I guess? [Laughs] Compared to the rest of the guys [on the DFA Records label], I play a lot more pop. You gotta throw in the requisite disco jams in there, but I like a lot of '80s pop and freestyle stuff.
You mentioned transitioning. Are you trying to move into a solo career?
NW: I think the goal is to start making my own music. I feel like there's a lot of groundwork that I have to lay down first before that actually comes, so it's a work in progress. I feel really good about LCD. I think we did the right thing [and] ended on a high note. We played as well as we've ever played and it's good. It doesn't necessarily mean that I, or anybody in the band, was finished with music altogether. Just that particular incarnation of us had finished its arc.

Do you miss anything yet?
NW: I miss playing music. I miss playing live. I miss playing with other people. I actually miss touring. I miss the whole thing. For the moment I'm happy and thrilled to be home. I haven't been in New York in years really, especially in the summertime. It's been a really nice at-home vacation—like getting reacquainted with my life and the city and my friends.
Do you have any plans to front a band someday?
NW: It's been great playing with LCD and playing with [the band] Juan [MacLean]. They were both great learning experiences for me—and they were both really different experiences as well. But yeah, I want to do something that's my own. I would love to have something where I call the shots. That comes with a lot of responsibility and burdens, but as far as a backing band I have no idea. Obviously I know people that play music and I'd love to ask them to play with me, but it's kind of a tricky situation because everybody's got their own things going on. And it kind of will dictate sort of how I decide to make music, too.
Nancy Whang with Krisp: Saturday, July 9 (doors open at 10 PM). The Electric Pickle, 2826 N. Miami Ave., Miami, 305-456-5613; electricpicklemiami.com
—Christine Borges