New Fragrance: Fan di Fendi
Fendi unveils a show-stopping new scent.
October 11, 2011


Fendi entered the luxury market in Rome in 1925. Eighty-six years later the brand continues to capture followers, and its latest fragrance—Fan di Fendi ($92)—carries on the tradition. Perfumer François Demachy created the eau de parfum with notes of tangerine from Calabria, pink peppercorn from Reunion Island, damascena rose, yellow jasmine and soft leather accord and patchouli from Indonesia. (Fabien Baron designed the bottle as an homage to the Fendi gold buckle.) The scent recently hit home: Last week select guests attended an intimate dinner party, hosted by Fendi Casa in the Design District, to experience Fan di Fendi for the first time. Available at fine department stores including Saks Fifth Avenue.

—maria argüello
New Boutique: LoNómada
A charming shop housed in an Airstream trailer brings a fashion feast to Miami.
October 10, 2011
As whimsical as the tempting cottage in Hansel and Gretel, LoNómada (located at The 55th Street Station) brings a similarly enchanting allure. The chic boutique is housed in a vintage 1979 Airstream trailer and is the creation of Valeria Rivera, whose extensive background includes stints as an art director, a hair and makeup artist and a fashion stylist. The moveable fashion feast features plenty to peruse, including vintage and new designer clothes, films, photographs and artwork. 5556 NE 4th Ct., 305-484-5399
—pamela wasabi
photograph by pamela wasabi
New Restaurants for the Season
Check out nine new restaurants that are sure to be big hits this fall.
October 10, 2011

Yardbird Southern Table & Bar
Barcelonetta
Concept: Catalan cuisine with a slight French influence. 1400 20th St., Miami Beach, 305-538-9299

Gloutonnerie
Concept: This acclaimed Mexico City hotspot opens its first outpost in the burgeoning South of Fifth restaurant nook with Mediterranean comfort food served in a chic, laid-back setting. 81 Washington Ave., Miami Beach, 305-503-3812; gloutonnerie.com
The Dome Restaurant, Bar and Lounge
Concept: This new eco-friendly restaurant and lounge located on Coral Gables' Miracle Mile bills itself as a Latin-American fusion and caviar bar. 271 Miracle Mile, Coral Gables, 786-210-3776; thedomebar.com

The Dutch
Concept: This American restaurant, bar and oyster room in New York opens a second location in Miami helmed by Andrew Carmellini, who loves Miami almost as much as we do. W South Beach, 2201 Collins Ave., Miami Beach, 305-938-3111; thedutchmiami.com
Harry's
Concept: Michael Schwartz opens his second restaurant in the Design District with pizzas (made with seasonal, local ingredients) arriving at your table straight from the wood-burning oven. 3918 N. Miami Ave., Miami, 786-275-4963; harryspizzeria.com

Yardbird Southern Table & Bar
Concept: This is a house of worship for those who value farm-fresh ingredients and classic southern cooking, culture and hospitality. Jeff "Midas" McInnis strikes again. 16th St. and Lennox Ave., Miami Beach, 305-538-5218; runchickenrun.com
Mare Nostrum
Concept: Downtown Miami gets a new Mediterranean seafood dining destination. 1111 SW First Ave., Miami, 786-220-5925; marenostrumrestaurant.com
Pubbelly Sushi
Concept: Pubbelly serves up sushi rolls like the porkbelly and cams alongside tostones de pana and southern fried soft-shell crab. 1424 20th St., Miami Beach, 305-532-7555; pubbellysushi.com
Villa Mayfair
Concept: The Grove might have a much-needed winner on its hands with this Italian eatery. 2901 Florida Ave., Miami, 305-774-1500; villa-mayfair.com

Coming Back:
Coming Later:
PHOTOGRAPH BY TRACEY-ANN JARRETT/TRACEYANNJARRETT.COM
—maria argüello
Rolex Pairs With Tiger Woods
See which Rolex watch Tiger Woods is wearing now.
October 07, 2011

The Rolex Oyster Perpetual Day-Date II ($34,750)

Since it is official that Tiger Woods is on board with Rolex now, here is a close-up look at the watch he currently wears. It is the 18k white gold, 41mm Oyster Perpetual Day-Date II with a fluted bezel. The 31- jewel chronometer movement keeps superlative time, and the watch is fitted with the famed Rolex President bracelet. It has a great look and feel—and is a step in a different direction for Woods.

Read more about watches from our timepiece editor Roberta Naas at atimelyperspective.com.
—roberta naas
Dine For A Cure
Fontainebleau Miami Beach and its restaurants support National Breast Cancer Awareness Month.
October 06, 2011

Yellow tail tartare from Gotham Steak
Perhaps it is the Tahitian vanilla crème brûlée from Gotham Steak, the prime filet of beef from Scarpetta or the braised homemade tofu from Hakkasan. Regardless of the choice, prepare to feel entirely guiltless throughout October as the Fontainebleau Miami Beach celebrates National Breast Cancer Awareness Month with its "Bleau Goes Pink" dinner selections. For the third year the Miami staple's signature restaurants—Gotham Steak, Hakkasan and Scarpetta—will offer exquisite three-course meals ($39), optional wine pairings ($20–$30) and exclusively discounted valet parking ($12 with validation). A percentage of the proceeds will benefit Susan G. Komen for the Cure. Fontainebleau Miami Beach, 4441 Collins Ave., Miami Beach, 877-326-7412; fontainebleau.com

—jonathan borge
Call to Cause: Anthony K. Shriver
With Best Buddies International, Anthony K. Shriver hopes to give a helping hand to all those in need.
October 04, 2011
In 1989, Anthony K. Shriver followed in his family's footsteps of public service and humanitarian efforts and created Best Buddies International, a nonprofit organization looking to establish relationships between people with and without intellectual disabilities. Three years later Shriver moved to Miami and has called the Magic City home since. In that time Best Buddies has expanded exponentially. The latest country to join the global program is Italy, and a regional office in Sao Paulo is in the works. The organization's goal is to be in more than 100 countries, including Europe, Asia and Latin America.
Best Buddies has also broadened its volunteer base, extending to colleges, high schools, middle schools and, most recently, elementary schools. Shriver began the movement thanks to his special relationship with his aunt, Rosemary Kennedy, with an understanding of "the powerful gift one human being can give to another." Although Shriver acknowledges that there has been remarkable progress, he is aware that there is still much to do and many people left to help.
Join the movement at the 15th Annual Best Buddies Gala, held on November 18. bestbuddies.org/events
—maria Arguello
Rock On
Lola James Jewelry's Rock Candy necklace comes in seven colors and aids in the fight against breast cancer.
October 03, 2011

Jewelry junkies, we've got your fix—and it comes in the form of the Miami Beach-based jewelry line Lola James Jewelry. Allyson Papunen and Romi Sarif are the faces behind the trendy trinkets, which are best summed up as whimsical, hip and for a good cause. For fall, the collection's gleaming jewel (pun intended) is the Rock Candy faceted teardrop necklace ($48), which comes in seven candy colors. The Pink Rock Candy necklace aids in the fight against breast cancer with 20 percent of each sale going toward the Susan G. Komen Foundation. Now that's style with a smile. Lola James Jewelry is available at Soho Beach House Miami, 4385 Collins Ave., Miami Beach
—MARIA TETTAMANTI
Band Highlight: Cut Copy
We chat with electronic rockers Cut Copy about Miami, touring and what comes next.
September 30, 2011
Cut Copy, a four-piece electronic-rock band from Australia, has helped bring fans of dance and rock music together. The band's performance last night at Grand Central in Downtown Miami proved it as the crowd ranged from electronic dance music fans to indie-rock disciples and everyone in between.

We arrived a bit before 6 PM at the venue to catch the band during sound check. As crew members set up the stage and the space, moving seating and making sure everything was in place, a few staff members (and Ocean Drive) were treated to a five-song warm-up show where the lads performed hits like "Hearts on Fire." Cut Copy guitarist and sampler Tim Hoey weighed in on the type of crowd he prefers. "As enthusiastic as possible is always good," he said with a laugh. "We've been to a lot of different places this year that have been really surprising [places to find] fans… South America, Israel and Russia. Just to see that we even have fans there is kind of amazing."
Cut Copy hit the Grand Central stage a little after 10 PM (following openers Midnight Magic and Washed Out) much to the delight of a very enthusiastic crowd. People cheered, arms raised, jumping in unison. Super fans yelled out track titles in hopes of singing the lyrics to their favorite songs out loud with the masses.

The show was part of a marathon tour. "We wanted to strike a balance with the touring and the writing," says Hoey. "I guess we toured the first two records so much. In saying that, for some reason we condensed twelve months of touring into seven months [this year], so it's kind of been pretty relentless since February. It all feels a bit like an episode of Survivor at the moment. All of the shows have been great, but eventually we'll need a bit of a break."

Will they be able to accomplish that here in Miami? "Our tour stops are usually so fleeting, but this time we'll be here a bit," says Hoey. "We're staying near the beach, so a swim in the ocean will be good."

Cut Copy, with Washed Out and Midnight Magic, will play a sold-out show on Friday, September 30. Grand Central, 697 N. Miami Ave., 305-377-2277; grandcentralmiami.com.
—Christine Borges
photograph by Cathy Izaguirre
The Weekend and Beyond
Our recommendations for what to do this weekend in Miami.
September 30, 2011

A photograph from the Overtown Music Project
What: F*CK Cancer: The Ty Bassett Battle
When: Friday, September 30 (6–10 PM)
Why: We all have a Ty Basset in our lives who gives cancer a run for its money.
How: $30 at door
Where: Moore Building (4040 NE Second Ave., Miami)
What: Epic by Overtown Music Project
When: Saturday, October 1 (7–9:30 PM)
Why: Support Overtown and relive its jazz and blues heyday when it was called "the Harlem of the South."
How: $50 at door ($40 online)
Where: LIV at The Fontainebleau (4441 Collins Ave., Miami Beach)
What: Festival of New Spanish Cinema: Every Song Is About Me
When: Sunday, October 2 (8:45 PM)
Why: A Woody Allen feel, a French New Wave look, music, books and heartbreak featuring Spanish up-and-comer Oriol Villa.
How: $10
Where: Miami Beach Cinematheque (1130 Washington Ave., Miami Beach)
What: "Clifford Owens: Photograph with an Audience"
When: Monday, October 2 (4 PM); Tuesday, October 3 (7 PM)
Why: Clifford Owens brings his interactive photo project to Miami as the audience becomes the art.
How: Show up early and be ready to participate.
Where: Diet (174 NW 23rd St., Miami)
—maria argüello
Watch News: Omega Goes Green
Omega partners with environmental photographer and activist Yann Arthus-Bertrand on a new film.
September 29, 2011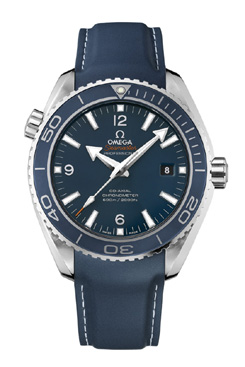 Omega has long been a friend of the space program. It is the watch that went to the moon; it is the watch that timed the re-entry in a near-fatal Apollo mission. The brand has also long been associated with the world's oceans. Its watches have gone on expeditions with Jacques-Yves Cousteau and the late Sir Peter Blake. Now Omega sets its sights on Earth, joining environmental activist and photographer Yann Arthus-Bertrand in the making of a film (set to debut in June 2012) called Planet Ocean, which will depict the natural beauty of the waters that cover two-thirds of the earth's surface. The first portion of that film comes in the form of some spectacular aerial photography by Arthus-Bertrand, which is currently on display in Shanghai at the Swatch Art Peace Hotel until October 23. The photos reflect a variety of natural habitats and expressions of life, as well as man's imprint on the environment, and the exhibit is designed to depict a "state of the planet" in this new millennium. Omega, 19501 Biscayne Blvd., 305-931-8788

Read more about watches from our timepiece editor Roberta Naas at atimelyperspective.com.
—Roberta Naas
Behind the Scenes With Giancarlo Stanton
We're behind the scenes with Marlins outfielder, who now has the largest contract in sports history.
Around The Web