Rock On
Lola James Jewelry's Rock Candy necklace comes in seven colors and aids in the fight against breast cancer.
October 03, 2011

Jewelry junkies, we've got your fix—and it comes in the form of the Miami Beach-based jewelry line Lola James Jewelry. Allyson Papunen and Romi Sarif are the faces behind the trendy trinkets, which are best summed up as whimsical, hip and for a good cause. For fall, the collection's gleaming jewel (pun intended) is the Rock Candy faceted teardrop necklace ($48), which comes in seven candy colors. The Pink Rock Candy necklace aids in the fight against breast cancer with 20 percent of each sale going toward the Susan G. Komen Foundation. Now that's style with a smile. Lola James Jewelry is available at Soho Beach House Miami, 4385 Collins Ave., Miami Beach
—MARIA TETTAMANTI
Band Highlight: Cut Copy
We chat with electronic rockers Cut Copy about Miami, touring and what comes next.
September 30, 2011
Cut Copy, a four-piece electronic-rock band from Australia, has helped bring fans of dance and rock music together. The band's performance last night at Grand Central in Downtown Miami proved it as the crowd ranged from electronic dance music fans to indie-rock disciples and everyone in between.

We arrived a bit before 6 PM at the venue to catch the band during sound check. As crew members set up the stage and the space, moving seating and making sure everything was in place, a few staff members (and Ocean Drive) were treated to a five-song warm-up show where the lads performed hits like "Hearts on Fire." Cut Copy guitarist and sampler Tim Hoey weighed in on the type of crowd he prefers. "As enthusiastic as possible is always good," he said with a laugh. "We've been to a lot of different places this year that have been really surprising [places to find] fans… South America, Israel and Russia. Just to see that we even have fans there is kind of amazing."
Cut Copy hit the Grand Central stage a little after 10 PM (following openers Midnight Magic and Washed Out) much to the delight of a very enthusiastic crowd. People cheered, arms raised, jumping in unison. Super fans yelled out track titles in hopes of singing the lyrics to their favorite songs out loud with the masses.

The show was part of a marathon tour. "We wanted to strike a balance with the touring and the writing," says Hoey. "I guess we toured the first two records so much. In saying that, for some reason we condensed twelve months of touring into seven months [this year], so it's kind of been pretty relentless since February. It all feels a bit like an episode of Survivor at the moment. All of the shows have been great, but eventually we'll need a bit of a break."

Will they be able to accomplish that here in Miami? "Our tour stops are usually so fleeting, but this time we'll be here a bit," says Hoey. "We're staying near the beach, so a swim in the ocean will be good."

Cut Copy, with Washed Out and Midnight Magic, will play a sold-out show on Friday, September 30. Grand Central, 697 N. Miami Ave., 305-377-2277; grandcentralmiami.com.
—Christine Borges
photograph by Cathy Izaguirre
The Weekend and Beyond
Our recommendations for what to do this weekend in Miami.
September 30, 2011

A photograph from the Overtown Music Project
What: F*CK Cancer: The Ty Bassett Battle
When: Friday, September 30 (6–10 PM)
Why: We all have a Ty Basset in our lives who gives cancer a run for its money.
How: $30 at door
Where: Moore Building (4040 NE Second Ave., Miami)
What: Epic by Overtown Music Project
When: Saturday, October 1 (7–9:30 PM)
Why: Support Overtown and relive its jazz and blues heyday when it was called "the Harlem of the South."
How: $50 at door ($40 online)
Where: LIV at The Fontainebleau (4441 Collins Ave., Miami Beach)
What: Festival of New Spanish Cinema: Every Song Is About Me
When: Sunday, October 2 (8:45 PM)
Why: A Woody Allen feel, a French New Wave look, music, books and heartbreak featuring Spanish up-and-comer Oriol Villa.
How: $10
Where: Miami Beach Cinematheque (1130 Washington Ave., Miami Beach)
What: "Clifford Owens: Photograph with an Audience"
When: Monday, October 2 (4 PM); Tuesday, October 3 (7 PM)
Why: Clifford Owens brings his interactive photo project to Miami as the audience becomes the art.
How: Show up early and be ready to participate.
Where: Diet (174 NW 23rd St., Miami)
—maria argüello
Watch News: Omega Goes Green
Omega partners with environmental photographer and activist Yann Arthus-Bertrand on a new film.
September 29, 2011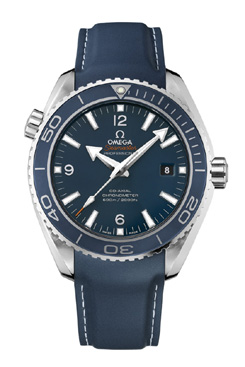 Omega has long been a friend of the space program. It is the watch that went to the moon; it is the watch that timed the re-entry in a near-fatal Apollo mission. The brand has also long been associated with the world's oceans. Its watches have gone on expeditions with Jacques-Yves Cousteau and the late Sir Peter Blake. Now Omega sets its sights on Earth, joining environmental activist and photographer Yann Arthus-Bertrand in the making of a film (set to debut in June 2012) called Planet Ocean, which will depict the natural beauty of the waters that cover two-thirds of the earth's surface. The first portion of that film comes in the form of some spectacular aerial photography by Arthus-Bertrand, which is currently on display in Shanghai at the Swatch Art Peace Hotel until October 23. The photos reflect a variety of natural habitats and expressions of life, as well as man's imprint on the environment, and the exhibit is designed to depict a "state of the planet" in this new millennium. Omega, 19501 Biscayne Blvd., 305-931-8788

Read more about watches from our timepiece editor Roberta Naas at atimelyperspective.com.
—Roberta Naas
Nue Spa In Town
The Spa @ Nue Studio opens.
September 29, 2011
Considered by many to be the coolest salon in Miami, Todd Jameson's Nue Studio has expanded by adding a spa to its newly opened second floor loft. The boutique space, known formally as The Spa @ Nue Studio, brings that same hipster décor and bohemian attitude but pairs it with a Zen-like calmness and some posh pampering. Guests can now book an array of specialties including facials, manicures, massages, waxing, reflexology and more. Insider tip: book some time with Celine, a talented aesthetician and one of Miami's nightingales. The Spa @ Nue Studio, 3470 East Coast Ave., Suite 113, Miami, 305-322-8611
—maria argüello
Come Fly With Us
Pan Am takes off again.
September 29, 2011

Pan Am Explorer bag
Pan Am premiered this week on ABC to rave reviews and fanfare, but Miami and Pan American World Airlines have had a long-running love affair. The glam airline is a Sunshine State original and maintained a strong tie to Miami for decades. Fans can now carry their own Pam Am bag thanks to HistoryMiami's museum shop, or don T-shirts, jackets, pins and more at the 40-year-old official Pan Am Store. HistoryMiami, 101 West Flagler St., Miami, 305-375-1492; Pan Am Store, 5000 NW 36th St., Miami, 305-871-1028
—maria argüello
Michael Schwartz Opens a Pizzeria
The busy chef brings inventive yet authentic pizza and small bites to the Design District.
September 28, 2011
This week, Miami welcomed its latest comfort food destination, Harry's Pizzeria, to the Design District. Spearheaded by chef Michael Schwartz and The Genuine Hospitality Group behind Michael's Genuine Food and Drink, Harry's is a modern take on a traditional pizzeria serving everything from homemade organic ricotta to inventive pizzas and a solid beer (all locally brewed) and wine selection.
To start, try the polenta fries with spicy ketchup or meatballs in a sauce of house-ground beef, pork and veal. Pizzas are baked in a wood-burning oven and have thin, crisp crusts, which are hand-made daily using a mix of all-purpose and wheat flour, local honey and Lucini Italia extra-virgin olive oil. Standouts include the oyster mushroom pizza with taleggio and roasted Anaheim peppers and the MGFD bacon pizza with fingerling potatoes, caramelized onions, arugula and cave-aged Gruyère cheese.

Don't forget to order a cup of perfectly tamped espresso made with beans from the nearby Panther Coffee in Wynwood to complement your chocolate panna cotta dessert. 3918 N. Miami Ave., Miami, 786-275-4963
—Jonathan Borge
Nightlife Pop-Up: Chivas 1801 Club
A temporary nightlife installation begins a one-month run at the Vizcayne.
September 28, 2011
The 49th floor penthouse of the Vizcayne is playing host to Chivas 1801 Club, a month-long pop-up lounge promising plenty of cocktails and special events amid sweeping city and bay views. Nightly events at the club range from private partnerships with some of the city's most prestigious arts organizations and non-profits to whisky tastings featuring selections from the Chivas Regal stable of whiskies. Access is limited: Become a member of the Chivas Brotherhood to find out what's happening next at Chivas 1801 Club. 253 N.E. Second St., Vizcayne South Tower, Penthouse Level, 49th Floor
—Maria Argüello
Mai Tai Good Times
It is a Polynesian party at Solé this weekend.
September 23, 2011


Solé kicks off its monthly, Hawaiian-themed luau on September 24. Party Pacific-style with a pig roast—complete with tropical dishes like shrimp fried rice, mixed vegetables and Polynesian potato salad—and enjoy fire dancers, a fashion presentation by Poko Pano swimwear, a live performance by the Aloha Boyz (a three-piece ukulele band), paddle boarding and a limbo contest. A percentage of ticket sales ($25 per person) will benefit Plastic Free Ocean. For luau and hotel reservations, call 786-923-9000 or email alba@soleoto.com
—maria argüello
BLT Steak: A Seafood Sensation
Take advantage of BLT Steak's celebration of National Seafood Month.
September 23, 2011

Grilled spiny lobster with ginger scallion broth
Though we're preparing to bid adieu to Miami Spice, BLT Steak at The Betsy will offer an ocean-inspired selection of underwater indulgence October 1 through October 31 in celebration of National Seafood Month. Pre-selected blackboard menu specials include an appetizer, entrée, side dish, dessert and two glasses of carefully matched wine ($60). Among the enticing dishes find appetizers like the charred octopus with a tomato-harrisa compote or triggerfish ceviche complemented by a soy-citrus sauce, mango, cilantro and jalapeño. There is also a grilled yellowtail snapper and smoked eggplant puree or tomato- crusted wild cobia served alongside warm fregola sarda, charred tomatoes, artichokes and a lemon aioli—all locally grown and sustainable options. Chef Sam Gorenstein's menu also highlights year-round staples like the delicious grilled spiny lobster in a ginger scallion broth. Let the gastronomic journey continue. BLT Steak at The Betsy, 1440 Ocean Drive, Miami Beach, 305-673-0044
—jonathan borge