Visit the Vogue Lounge
In town for Art Basel Miami Beach, the Vogue Lounge fuses art and fashion.
November 29, 2011

A towl from the "Works on Whatever" series

The Vogue Lounge at Sagamore, The Art Hotel will have fashion and art aficionados alike marking their calendars. Think of the two-day shopping experience—held December 1 through December 2 (NOON–7 PM) in honor of Art Basel Miami Beach—as a union of never-before-seen contemporary art and cutting-edge fashion. Find brands such as Keds at Opening Ceremony, Bond No. 9, Lexus, and Dee & Ricky. On the art front the Art Production Fund will introduce its presentation of "Works on Whatever," a 2012 towel series by artists Barbara Kruger and Rirkrit Tiravanija. 1671 Collins Ave., Miami Beach

—MARIA TETTAMANTI
Accessory Splurge: Sergio Rossi Shoes
A $10,000 pair of pumps that is worth every penny.
November 29, 2011


Sex and the City's Carrie Bradshaw once said, "I like my money right where I can see it… hanging in my closet." By the looks of the new extravagant shoe from Sergio Rossi, the luxury brand agrees with that statement. This classic Cachet peep-toe, platform crocodile pump is coated in 22-carat gold or silver leaf ($9,825). The handcrafted shoe is sold exclusively upon request and steps into the Bal Harbour store December 1—just in time for Art Basel. We can't think of a better occasion to wear a shoe so perfectly designed for cheering on the good life. Sergio Rossi, Bal Harbour Shops, 9700 Collins Ave., Bal Harbour, 305-864-3643
—maria argüello
A Guide to Art Basel Miami Beach 2011
Plan your party hopping with this list of can't-miss Art Basel finds.
November 28, 2011

rAndom International's "You Fade To Light" to be presented at Design Miami/2011 by Carpenters Workshop Gallery
If you haven't sorted out your schedule for Art Basel Miami Beach—the week-long spectacle of art, design, music, and fashion—we can help. There are plenty of private, invitation-only events that we'll be reporting from, and here are some of our favorite Basel itinerary items.
November 28

Fifth Ornare Tastemakers Showcase
WHY: About 800 artists, architects, and designers from around the globe gather to celebrate the start of the Art Basel week.
WHEN: 8–11 PM
WHERE: Ornare's Design District Showroom (3930 NE 2nd Ave., Ste. 102/103, Miami)
HOW: Invitation only
Dior x Anselm Reyle Boutique
WHY: The house of Dior collaborates with German artist Anselm Reyle for a fun new look.
WHEN: Continues through December 10
WHERE: 191 NE 40 St., Miami
Pringle of Scotland partners with The Webster for a pop-up shop in the Design District
WHY: This fall we saw the influence of Pringle of Scotland's new design director Alistair Carr and the collaboration and influence of designer Liam Gillick. Now comes the debut of a fresh new capsule collection called LiamGillickForPringleOfScotland
WHEN: Continues through December 28
WHERE: Mosaic Building (161 NE 40th St., Miami)
November 29
Pampaloni Brunch
WHY: A preview brunch for "Paradiso Perfetto," an exhibit showcasing oil on canvas and silver art.
WHEN: 11 AM
WHERE: 91 NE 40th St.
HOW: Invitation only
Scope Miami VIP and Press Preview
WHY: This year Scope Miami is housed in Midtown's art tent village and promises an even more visually stunning experience, including a performance by Chokra.
WHEN: 4–8 PM
WHERE: NE 1st Ave. (Midtown Blvd.) at NE 30th St.
HOW: For VIP and press (or $100 donation at door)
Dewar's MOCA/Vanity Fair Party
WHY: This is the un-official kick-off party of the week. Expect an intellectual crowd, flowing Dewar's cocktails, and a celebration of 10 years of Art Basel and 15 years of MOCA, plus two new exhibits.
WHEN: 7–9 PM
WHERE: MOCA (770 NE 125th St., North Miami)
HOW: Purchase tickets here
Maison Martin Margiela "LOVE, etc." Exhibition Opening
WHY: The exhibit "LOVE, etc." will feature Margiela's Line 13, which is dedicated to objects and publications. It also includes a limited-edition nightlight produced exclusively for Art Basel Miami Beach 2011.
WHEN: Continuing through December 3 (11 AM–7 PM)
WHERE: 4141 NE 2nd Ave., Miami
HOW: Open to the public
Opening Event at the Wynwood Walls
WHY: An unveiling of The Pop-Up Shop and release of The Wynwood Walls and Doors book, plus nightly DJs, musical performances, and videos.
WHEN: 9–11 AM and nightly continuing through December 4
WHERE: NW 2nd Ave. (between 25th and 26th Streets), Miami
HOW: Open to the public
Design Miami Vernissage
WHY: A fair focused on high-end and cutting-edge design hosts its opening night. This is one of the few with roots in Miami—among them the visionary Craig Robins.
WHEN: 6–10 PM
WHERE: Meridian Ave. and 19th St., Miami Beach
HOW: Invitation only
Scope 150
WHY: A strictly invite-only affair with the guest list closely curated to include only tastemakers, game-changers, and other influencers.
WHEN: 8 PM–MIDNIGHT
WHERE: Mondrian Hotel (1100 W. Ave.)
HOW: Invitation only
Urban Zen Pop-Up Shop
WHY: Donna Karan's Urban Zen opens for a limited time at MOCA and partners with local designer Nektar De Stagni. The store will feature artwork, jewelry, and home accessories produced by Haitian artisans.
WHEN: MOCA Galleries and the shop will be open during Art Basel Miami Beach November 30 (9 AM–9 PM) and December 1–December 5 (9 AM–5 PM)
WHERE: MOCA (770 NE 125th St., North Miami)
—maria argüello
Weekend Watch
There is plenty to do in Miami this weekend after the Thanksgiving Day feast.
November 23, 2011

Nervo
You've watched the parade, stuffed yourself with turkey and all the trimmings, caught up with relatives, and spent more than you saved during Black Friday shopping. What to do with the rest of the weekend?
Peachfuzz
WHAT: The debut of a new weekly party at a new location: The Garret, Grand Central's loft venue.
WHEN: Friday, November 25 (11 PM)
WHERE: The Garret (697 N. Miami Ave.)
HOW: Show up and dance
G-Spot Bike Tour
WHY: A pre-Art Basel bike tour led by TM Sisters that visits 10 art installations
WHEN: Saturday, November 23 (4–7 PM)
WHERE: Meet at Government Center (111 NW 1st St., Miami)
HOW: Grab a bike
Nervo
WHAT: The beautiful and talented Aussie DJ Duo
WHEN: Saturday, November 26
WHERE: Wall (2201 Collins Ave., Miami Beach)
HOW: Table reservations are available (305-938-3130; rsvp@wallmiami.com)
Movie: Melancholia
WHY: The holidays always make us a little blue—and this film by Lars von Trier fits that mood.
WHEN: Friday, Saturday, Sunday
WHERE: O Cinema (90 NW 29 St., Miami)
—maria argüello
Jewelry Find: Gala by Daniela Swaebe
A new line by a Miami favorite shines.
November 23, 2011

Beloved Miami designer Daniela Swaebe is well-known for her feminine, cool jewelry line. Now Swaebe brings that refined yet fun style to Gala, her latest collection. We had a few questions for the designer.
When did you know you wanted to design jewelry?
DANIELA SWAEBE: I didn't know I wanted to be a designer. I just knew I like designing and I like gems and the rest followed.
What was the first piece you created?
DS: The first piece I designed was a little citrine pendant with briolettes 12 years ago.
What made you want to create Gala?
DS: Market trends of course. Fashion consumers are looking for more affordable everything. And I really wanted to reach a mass market. Having my designs accessible to more people has been exhilarating.

What is your favorite piece of jewelry?
DS: It changes all the time, frankly. Right now I am into my diamond pieces because of the holiday season. And my rutilated quartz earrings.
What else do you have in the works?
DS: I am transitioning to jeweled apparel as well. My jeweled scarves are my latest.
—maria argüello
Dita Von Teese's Cocktails for Cointreau
The burlesque star releases a glamorous bar.
November 21, 2011


Dita Von Teese and glamour undoubtedly go hand in hand. Last week this modern day burlesque queen landed in Miami to promote her latest endeavor, the "My Cointreau Travel Essentials" bar ($399), an elegant travel bar that fits conveniently in a retro, white leather hatbox. It comes complete with all the essentials—a jigger, a bar spoon, a shaker, two glasses, a Cointreau atomizer, and a limited-edition, signed bottle of Cointreau. A round or two of cocktails never looked so good. Available at the Mondrian South Beach and The Webster.
—maria argüello
A 24-hour Fashion Show
Cotton hosted a 24-hour fashion show on Lincoln Road that did more than just show off clothes.
November 21, 2011
Most fashion shows last less than 10 minutes, so imagine our surprise when we first heard about Cotton's plan to bring a 24-hour fashion show to Miami. The unprecedented feat is a challenging thought to say the least (logistical factors, scheduling, Miami's infamous permitting issues), but the stars aligned and on November 19 at approximately 12 PM the music started and models began marching down the al fresco runway on the west end of Lincoln Road. Giuliana and Bill Rancic hosted the affair, and the show drew crowds all night long with (in true Miami style) the numbers of onlookers at 4 AM larger than expected. A total of 1,440 looks—one look per minute—strutted down the runway during the 24 hours, and not even sporadic rain showers put a damper on this extravaganza.
For the Sunday morning finale, a cavalcade of style bloggers hit the catwalk, dancing, cheering, and feeding off the crowd's energy. That is when it became apparent: All of the bloggers were different—no cookie-cutter model perfection—and they presented a vibrant catalog of looks, shapes, sizes, ethnicities, and styles. They represented the growing trend of being stylish by embracing one's unique brand, and Cotton was smart to promote these authentic trendsetters. We look forward to the day-long show becoming an annual event.
—maria argüello
Watches: Audemars Piguet Royal Oak
Audemars Piguet celebrates the 40th anniversary of the Royal Oak in 2012.
November 18, 2011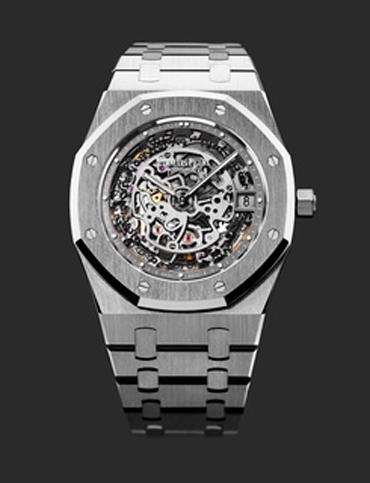 The year was 1972. No, this is not about flower power or other '70s-era memories. This is about the legendary Gerald Genta designing the daring and bold Audemars Piguet Royal Oak watch—a luxury sport timepiece that wowed the world with its magnificent steel case and gold price. The Royal Oak was an overnight success, and today, as Audemars Piguet celebrates the 40th anniversary of the Royal Oak in 2012, the collection remains one of the most coveted luxury lines in the world.
For the 40th birthday of the Royal Oak, Audemars Piguet has deftly blended old with new, heritage and tradition with visionary foresight. The newest Royal Oak Limited Edition 40th Anniversary watch features a 39mm case just like the original. This one, however, is an Openworked Extra Thin beauty crafted in platinum in a limited edition of 40 pieces (naturally). The stunning work houses the ultra-thin self-winding Calibre 5122 that is just 3.05mm thick and beautifully skeletonized. The movement features an anthracite color achieved by galvanic treatment, and the exquisite finishings (circular graining, satin brushing, and more) are all done by hand. The monobloc oscillating weight is entirely made in 22kt gold and bears the raised inscription "AP Royal Oak 1972–2012." The beautiful timepiece is a wonderful tribute to the Royal Oak's heritage. Here we bring you a sneak peek at the watch, as its official unveiling isn't until January 2012 at the Salon International de la Haute Horlogerie in Geneva.

Read more about watches from our timepiece editor Roberta Naas at atimelyperspective.com.
—Roberta Naas
Photography Spotlight: Scott Frances
Photographer Scott Frances brings his "MonoVisioN" exhibit to the Design Center of the Americas.
November 18, 2011

Photograph by Scott Frances

Scott Frances has spent a lifetime chronicling the best in modern architecture and design for a roster of illustrious publications including Architectural Digest, Vanity Fair, and The New York Times. He has worked with renowned architects such as Frank Gehry, Richard Meier, and Frank Lloyd Wright, and photographed the homes of celebrities including Steve Jobs, Diane Keaton, Jennifer Aniston, and Elton John. Earlier this year Scott released the book MonoVisioN and created an exhibit with the same title. This week he brought it to South Florida's Design Center of the Americas (DCOTA) and chatted with us about architecture, design, and his favorite city.
You have photographed all over the world. What is your favorite city?
SCOTT FRANCES: I love to travel. I have shot on all the continents other than Antarctica, and in 48 states here. I married and lived in Sydney for three years. It's a beautiful city offering an incredible quality of life. I think Barcelona is the most beautiful and interesting city for me, with Paris a close second. I quite like Vienna, too—century after century of great design and arts. Istanbul is the best city if you only have 48 hours. I recently shot in Capetown, which is an absolute jewel—even more beautiful than Sydney. I also recently shot a massive hotel complex in Singapore, which really opened my eyes about the ascending economic power of the east. 17 percent growth every quarter! Their skyline is bigger than Manhattan's, and it's now the largest port in the world. Great street food markets there—best I've ever had. But the place that pulls hardest on my heartstrings is South America. I love Rio and Buenos Aires. My wife and I bought a piece of land in Uruguay; it will be our winter home when we retire.
Who are your two favorite up-and-coming architects and/or designers?
SF: It is very difficult for me to narrow my choices down to just a few. There is a huge amount of talent out there and I like many different styles. I am modernist by nature, but I also love the decorative arts. I recently met an architect in Chicago, Gordon Gill—he's currently building the tallest building in the world and an entire planned city in China. All of his design begins with the consideration of carbon impact [and] the form evolves from there. He is building carbon neutral buildings that are aesthetically gorgeous. For decorative arts, I recently discovered the work of Studio Peregalli. They really get it.
What do you love about Miami?
SF: I love the way it is set to the beach, like Rio and Chicago. And I love the Latin influence. It sets the city apart from the rest of America. And I really liked that Dolphins team with Csonka, Mercury Morris—the best sports name ever—Garo Yepremian, and [Bob] Griese.
Light is so important when it comes to architecture. What city has the best in your opinion?
SF: I guess the politically correct answer, since I am opening a show here, would be South Florida. And there are things I like about the light here, particularly the dramatic skies that often roll in in the afternoon. But my favorite light in America is in the East End of Long Island. There's a reason all of those great painters migrated to there.
—maria argüello
Turban Chic
Gold Saturn's velvet Turbands offer a unique twist on fall's hottest headwear.
November 17, 2011
Here is a twist on this season's turban trend: Gold Saturn's velvet Turband ($48). Gold Saturn's Miami-based designer David Jon Acosta has managed to reinvent the omnipresent turbans of the 1950s with a more modern appeal and fit. Available in gray, ruby, emerald, and onyx hues, Acosta's invention also has a celebrity fan: Kourtney Kardashian wore a black studded version on last season's Kourtney & Kim Take New York.
—MARIA TETTAMANTI
Behind the Scenes With Giancarlo Stanton
We're behind the scenes with Marlins outfielder, who now has the largest contract in sports history.
Around The Web