Swim Week Dispatch
Day one of Mercedes-Benz Fashion Week Swim draws a crowd.
July 18, 2011
photographs by Frazer Harrison/Getty Images for Mercedes-Benz; Michael Buckner/Getty Images for Mercedes-Benz (models posing; The Raleigh)
Summer Style by Matthew Williamson
Choose from three of our favorite Matthew Williamson looks for summer.
July 15, 2011

FROM LEFT: Butterfly degrede jumpsuit ($765); mirror ikat harness silk racerrback long dress ($1,915); mirror ikat silk kaftan ($1,015)
We love Atrium's latest Matthew Williamson line. 1931 Collins Ave., Miami Beach, 305-695-0757
A Standard Weekend
Celebrate Mercedes-Benz Fashion Week Swim with new shoes at The Standard.
July 15, 2011
It's Mercedes-Benz Fashion Week Swim, and while we know the focus is on next season's bathing suits, you can put this season's suits to good use at Native Swim hosted by Native Shoes on Saturday, July 16 at The Standard. The party promises a great time with Cuban barbecue, tropical cocktails and DJs Mia Moretti and Induce. Don't be late—the first 100 guests will receive complimentary Native Shoes. (5 PM) The Standard, 40 Island Ave., Miami Beach; RSVP to swim@nativeshoes.com.
Questions With: Arlene Tur
Miami native Arlene Tur goes sci-fi with her turn as a tough doctor in the series Torchwood Miracle Day.
July 12, 2011

Arlene Tur
You might remember Arlene Tur from her role in Eat Pray Love, when the Latin beauty lit up the screen playing a Brazilian named Armenia with a thirst for life and good hair-care products. Now you can catch Tur on the new sci-fi series Torchwood Miracle Day, where she plays the smart, strong Dr. Vera Juarez. We sat down with her to chat.

Tell us about Torchwood Miracle Day.
AT: Torchwood is a secret service in charge of keeping humans unaware and safe and it is led by an immortal. In the latest series, Torchwood comes stateside because on Miracle Day people stop dying. I play a cardiothoracic surgeon who saves Mekhi Phifer's character.
Are you a sci-fi fan?
AT: I have fallen in love with sci-fi. There really are no rules. There's… no telling what can happen on any given day on set. Another exciting element... is that as an actor you are pretty much at the mercy of your writers' imaginations. Thank God we have a great writing team and the brilliant Russel T. Davies as our captain! He is a true genius at his craft, and it was a great pleasure and a career high working him.
How are you similar to your character?
AT: She's a very determined individual. And although she's very compassionate, Dr. Vera Juarez doesn't take no for an answer
What was it like working on Eat Pray Love?
AT: How could you not love working in Bali with Julia [Roberts] and Javier [Bardem]? They're wonderful, educational—such a joy.
In the film your character gives beauty secrets and life advice. Do you?
AT: I love coconut oil for face and body. Also I am a reapplier. Throughout the day I tend to reapply moisturizer and sunblock, especially now that it's so sunny and bright in LA. Being from Miami I miss the heat and the humidity so much! Lastly I'm a firm believer [in] dressing expressively but comfortably.
If you had to choose three destinations to go to for a year, what would you choose?
AT: You're going to think I'm lying but definitely India, Italy and Indonesia—triple "I"s. I've traveled many times to Italy and speak the language, but I still feel like there's so much to learn and explore. Traveling to India on a mission's trip with my church was outrageous. The people are genuinely lovely, and you've never seen a place so colorful. And there's something to be said about the shock value. You can see many things in India that we Americans couldn't even imagine. I love photography, and it's undoubtedly a photographer's paradise. And finally Indonesia—one of my bucket-list items is to try and sail all the Indonesian Islands. There are 17,508 of them.
Speaking of travel, what are your summer essentials?
AT: Sunglasses, a big hat, a volleyball, great books, great music, a journal and a bed on the beach at The Delano.
Where do you hang out when you come home to Miami?
AT: A lot of dinners at family homes, and I love Casa Tua. I spend a lot of time with friends but if I go dancing it's at Liv or Mynt.
And what do you miss about Miami?
AT: Everything: people, culture, music, heat, humidity. But what I miss most [is] family, friends, weather, dancing and food. There's no good Cuban food in LA.
When in Roam
Hop on a Vespa and tour the Wynwood Art District with Roam Rides.
July 11, 2011
Between Art Basel and the Wynwood Art District, Miami is one of the most coveted locations for the astute aesthete. That is why we are so excited for the Miami Art Tours hosted by Roam Rides, which specializes in Vespa scooter rentals. Choose from three tours, each focusing on a different aspect of a neighborhood's art. A street artist guides the Street Art tour, which focuses on how to identify different types of street art. The Gallery tour features a more customized experience led by Tomm El-Saieh of Tomm El-Saieh Presents, who allows for access to the most exclusive galleries and private dealers. And the Collections tour allows you to scope out one of the major collection houses of either The Margulies, The Rubell or The De La Cruz Collection. Each tour ends at Morgans Restaurant for brunch or lunch.
—Vanessa Martin
Ulysse Nardin's Caprice Precious Panda
The watch brand unveils a darling diamond encrusted keepsake.
July 09, 2011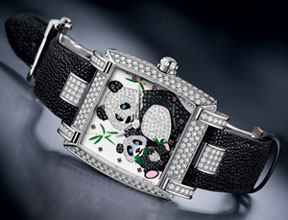 Hot on the heels of the wonderful Caprice Tiger that Ulysse Nardin released to the world last year, the brand now unveils its adorable precious Caprice Panda watch. The panda, beloved for its distinctive black and white beauty and serene majesty, is an honored treasure – intriguing all who have the privilege to see one for real. A symbol of strength and resilience, the gentle bear reigns as a creature of mystery and awe – and now lives on timelessly in a stunning version interpreted on the wrist like only Ulysse Nardin can do in the Ladies Caprice Panda in 18-karat white gold.
Depicted seamlessly in black and white diamonds, a mother panda and her cub feast on bamboo, their favorite treat. Pink colored rubies mark the hours. The watch houses a UN -13 self-winding movement with diamond-set rotor in 22-karat gold and features a sapphire crystal caseback for viewing the meticulously finished components. The watch is offered with either a partially diamond-set version with 184 diamonds on a leather or galuchat strap for $43,300, or a full-set diamond case with 352 diamonds with alligator or stingray strap ($55,300) or with white gold bracelet ($72,300). Just 28 pieces will ever be made for worldwide distribution. This watch is a real wonder to behold. 7900 Glades Road
Read more about watches from our timepiece editor Roberta Naas at atimelyperspective.com.
—Roberta Naas
Questions With: Nancy Whang
Nancy Whang, former member of the band LCD Soundsystem, talks DJing and her preparation for a new solo career.
July 08, 2011

Nancy Whang
The dance and indie music worlds mourned when James Murphy, the frontman of LCD Soundsystem, announced the permanent termination of his dance-punk band. That is until Nancy Whang, the group's keyboardist, synth player and backup vocalist, reappeared in the limelight. Now in a transition period, she is experimenting with DJing—one of her first sets was at our beloved Art Basel last December—and she is doing another this Saturday at The Electric Pickle. We caught up with Whang recently to hear all about her solo career, being home in New York for a bit and what fans can expect on Saturday.
How have things been for you since LCD Soundsystem broke up?
NANCY WHANG: It's been good and strange, I guess. I think I'm still transitioning. I haven't really gotten to the place that I'm moving toward yet, but I feel good about things. I'm not up to much at the moment except for DJing a little a bit. I think it's good to take some time off.
You are DJing on Saturday—will you actually perform?
NW: No, I'm just DJing the party at Electric Pickle. Art Basel was actually one of my first DJ sets. I've been doing it a lot more recently, but I'm still pretty new at it. I'm learning the ropes. I'm starting to have fun.
You said in an interview once that you could never DJ. What changed your mind?
NW: Having LCD finishing, trying to figure out the next phase. In the interim I need to stay busy, active, relevant…so it's a good way to earn a living. And it's fun and it keeps me busy. I can still travel places and go to parties.
Will you be playing any songs from your previous bands on Saturday?
NW: No, I don't really like doing that. It seems a little too vain. Not that I really have a problem with vanity or anything like that but I feel a little self-congratulatory I guess. Plus there's other music out there that's great.
So what can fans expect to hear from you?
NW: Some fun jams, I guess? [Laughs] Compared to the rest of the guys [on the DFA Records label], I play a lot more pop. You gotta throw in the requisite disco jams in there, but I like a lot of '80s pop and freestyle stuff.
You mentioned transitioning. Are you trying to move into a solo career?
NW: I think the goal is to start making my own music. I feel like there's a lot of groundwork that I have to lay down first before that actually comes, so it's a work in progress. I feel really good about LCD. I think we did the right thing [and] ended on a high note. We played as well as we've ever played and it's good. It doesn't necessarily mean that I, or anybody in the band, was finished with music altogether. Just that particular incarnation of us had finished its arc.

Do you miss anything yet?
NW: I miss playing music. I miss playing live. I miss playing with other people. I actually miss touring. I miss the whole thing. For the moment I'm happy and thrilled to be home. I haven't been in New York in years really, especially in the summertime. It's been a really nice at-home vacation—like getting reacquainted with my life and the city and my friends.
Do you have any plans to front a band someday?
NW: It's been great playing with LCD and playing with [the band] Juan [MacLean]. They were both great learning experiences for me—and they were both really different experiences as well. But yeah, I want to do something that's my own. I would love to have something where I call the shots. That comes with a lot of responsibility and burdens, but as far as a backing band I have no idea. Obviously I know people that play music and I'd love to ask them to play with me, but it's kind of a tricky situation because everybody's got their own things going on. And it kind of will dictate sort of how I decide to make music, too.
Nancy Whang with Krisp: Saturday, July 9 (doors open at 10 PM). The Electric Pickle, 2826 N. Miami Ave., Miami, 305-456-5613; electricpicklemiami.com
—Christine Borges
The Jazz Age
Take in one of the Thursday night jazz shows at The Betsy.
July 08, 2011

The Betsy's lounge and lobby bar
Jazz fans in a sentimental mood for some jam sessions are in for an unforgettable treat at The Betsy, which hosts weekly Thursday night concerts. The music—played by a weekly rotating roster of performers—begins at 9 PM. Don't miss the upcoming July lineup, and look forward to The Betsy's addition of Wednesday night performances beginning in August. 1440 Ocean Drive, Miami Beach, 305-760-8288
July 14: Mariana Martin
July 21: Jacob Jeffries Band
July 28: Big Brooklyn Red
Tricks of the Trade: Makeup Artist Ivan Pol
We go to a makeup pro for a few tips and tricks for summer beauty.
July 07, 2011

Summer beauty: Hair and makeup by Ivan Pol
We sat down with veteran makeup artist and eyelash aficionado Ivan Pol, who has been in the business for 12 years, to chat about everything from looking pretty during the summer to his makeup-kit secret weapon.
How long have you been working in Miami?
IVAN POL: I moved back to Miami—which is my hometown—three years ago. I've been working at Oribe for two years.
Who are your celebrity clients?
IP: My celebrity clients include: The icon, Jennifer Lopez; the screen siren/starlet, Kate Winslet; the sex symbol/goddess, Pamela Anderson; the royal, Queen Rania of Jordan; the songstress, Joss Stone; and the author, Candace Bushnell.
From a makeup perspective, how does one deal with Miami's balmy weather?
IP: Fresh skin in always on trend. To beat the Miami heat use a toner before applying your makeup! It will get rid of any excess oil and grime, which can later lead to unwanted shine.
What's the one big trend this summer?
IP: The seventies are back!
What product should every woman own?
IP: Coty Airspun lose powder in translucent. It's a permanent staple in my makeup kit: A secret weapon against creasing under-eye concealer and T-zone shine.
Finish the following sentence: Ladies should not leave the house without…
IP: Filling in their eyebrows. Think of your brows as the frame around the portrait of your face. Choose a color that's a shade lighter than your hair. After professionally shaping a client's brows at the salon, their eyes get an instant lift. They leave looking and feeling younger!
Photograph by Brian Keith
Swim Report: Kai Lani
Heavenly swimwear from the new line Kai Lani.
July 07, 2011
Swimsuit devotees are familiar with South Miami's Mermaids Boutique, and after 10 years in business the owner and her sister launched Kai Lani (which means "heavenly sea") this year. Find the label at local retailers including Nic Del Mar, Isa Boutique and (of course) Mermaids. As you can see, we've found a few favorite pieces all ready.
Behind the Scenes With Giancarlo Stanton
We're behind the scenes with Marlins outfielder, who now has the largest contract in sports history.
Around The Web