SIHH 2013 Watch Trend Review
Four timepiece trends from the watch show in Geneva.
January 30, 2013

CLOCKWISE FROM LEFT: Jaeger-LeCoultre's newest Reverso pieces with mother-of-pearl dials. One of the newest Metiers d'art watches for women from Vacheron Constantin. Richard Mille's new world time watch. Cartier's Mysterieuse Tourbillon timepiece.
With SIHH 2013—the 23rd edition of this luxury by-invitation-only watch show—now over, it is important to note several key trends that emerged with the unveiling of the newest timepieces. The watches shown in Geneva during the fair last week will make their way to the market—and to discerning wrists around the globe—beginning in summer and on through the fall.

Women's watches – including a healthy dose of women's mechanical watches—and bravo to that! It is high time that the brands give women their due and offer them mechanical masterpieces. Women's watches were the highlight of several brands' unveilings, with Piaget creating an entire new women's watch collection and with Vacheron Constantin leading the pack with an exclusively female watch unveiling of magnificent scope.

Métiers d'Arts – including a wealth of stunning new artistic dial treatments ranging from mosaics, to wood marquetry, enamel mixed with sculpture and more. This year promises to be the most artistically advanced in dials ever.

Multi-timers and perpetual calendars – yes, for those who travel the world (or like to say they do), dual-, multi-time zone watches and GMTs are more prevalent than ever. Add to that a wealth of perpetual calendar watches emerging and we have a traveler's delight.

Haute horlogerie at its finest – it is the year for traditional watchmaking in the highest form, as several brands unveil multi- and even Grand Complication watches—with A. Lange & Sohne strutting a $2.4 million watch and Audemars Piguet releasing a Grand Comp in titanium. Additionally, other brands continue in their quest to finely hone the art of high horology.

Stay tuned this week for other exciting new pieces from the show on atimelyperspective.com.
—Roberta Naas, atimelyperspective.com
Piaget Unveils the Emperador Coussin Ultra-Thin Minute Repeater
The master of ultra-thin calibers releases a new model at SIHH 2013.
January 23, 2013

LEFT: Piaget's Emperador Coussin Minute Repeater. RIGHT: The watch's inner workings.
Piaget—the master of ultra-thin calibers—now releases the automatic Emperador Coussin Ultra-Thin Minute Repeater. Although it's thin (setting another double record for the brand thanks to its slender 4.8mm caliber and 9.4mm case), it packs powerful sound. Made entirely in-house in Piaget's two Manufactures, the new 1290P caliber represents the fourth major complication developed by Piaget (which boasts 11 major complications among its 35 in-house developed movements). The movement was, in fact, in the development stages for three years, with six engineers dedicated to bringing it to fruition.

Developed on the basis of Caliber 1200P (the world's thinnest automatic movement), the 1290P houses an amazing 407 parts—a mind-blowing number that demanded exceptional miniaturization and a refusal to compromise on the sound or on technical reliability. A daunting feat indeed, that called for each part to be skillfully thought out and shaped. Some components measure as little as 0.07 mm. The microrotor is designed in platinum to guarantee the best possible winding power within a minimum thickness.
—Roberta Naas, atimelyperspective.com
Hamilton Pays Homage to Its History
The brand's Khaki Navy Pioneer Limited Edition celebrates over 120 years of time-keeping.
January 22, 2013
In celebration of over 120 years of timekeeping, iconic American watch brand Hamilton offers the Khaki Navy Pioneer Limited Edition as a nod to the brand's classic marine chronometers made in the 1940s. To honor the year Hamilton was founded, there are 1,892 numbered pieces in the collection ($2,950), each housed in a Pará rubber tree wooden box to echo the packaging of the original marine chronometers.
Although American in design, Hamilton's Khaki Navy Pioneer Limited Edition boasts Swiss-made, hand-winding movement to power the watch, with water resistance up to 100 meters. The style is equally reminiscent of the original watches, but still modern, with ocean-blue hands, a velvety-silver dial, a stainless steel case at 46.5mm, and a patterned bezel.
The timepiece also features a stainless steel cradle to transform it into a table-clock, or a brown-stitched leather band to serve as a wrist adornment. For a complete list of stores or for more information, see hamiltonwatch.com.
—Alexandra Calamari
Omega's New Anti-Magnetic Watch Movement Technology
New advances in anti-magnetic technology unveiled in Geneva.
January 18, 2013
In a truly advanced mode, Omega unveiled its newest technology: the creation of a watch that is resistant to magnetic fields greater than 1.5 tesla (15,000 gauss), far exceeding the levels of magnetic resistance achieved by any previous watch, and solving a problem that has challenged watchmakers for centuries. It was in the early 1930s that watch brands developed soft inner iron cases for their pilot's watches to fight the effects of magnetism that would render the watch useless in magnetic fields.
Since then, strides have been made in this arena, but Omega pulls out all the stops with this watch. The new movement was introduced yesterday in Geneva by Omega's top executives and heads of development, research and engineering. The technology developed by the team of scientist, metallurgists, engineers, and watchmakers, led to the first prototype of the movement, which has been fitted in an OMEGA Seamaster Aqua Terra.
Unlike other efforts to combat the effects of magnetism, the OMEGA movement does not rely on a protective container inside the watchcase, but instead relies on the use of selected non-ferrous materials in the movement itself. Several patents are pending for the new movement.
Magnets are now more present in our daily lives than they have ever been. Watchmakers have to deal regularly with the issue of magnetism, as it is necessary for them to demagnetize mechanical watches whose performance has been compromised by exposure to magnetic fields, a problem that will be solved with the new movement. The new movement, the OMEGA Co-Axial calibre 8508, should be introduced to the market in 2013.
—Roberta Naas, atimelyperspective.com
Panerai Premieres Luminor 1950 Rattrapante 8 Days Titanio
New watch plays up Panerai's strengths in functionality and style.
January 15, 2013
Combining its strengths—sophisticated haute horlogerie and high-tech sports watchmaking—Panerai now unveils the limited-edition PAM 530 Luminor 1950 Rattrapante 8 Days Titanio. The split-seconds chronograph is built with a vertical clutch and two column wheels to operating two hands—superimposed and partially independent—to measure partial times or a second event simultaneously with the first event. To make it easier to read, the hand of the small minute counter moves in jumps instead of continuously. The dial features two superimposed disks with a layer of SuperLuminova between them for better underwater visibility—a hallmark of Panerai since the 1930s.

The hand-wound P.2006 movement is built in the Officine Panerai Manufacture in Neuchatel according to the strictest standards of excellence. It offers eight days of power reserve made possible by a special patented system of three spring barrels. The indicator is linear and depicts the remaining power reserve above 6:00. The rugged 47mm case is created of titanium and is fitted with Panerai's lever device to hermetically seal the winding crown—ensuring 100 meter water resistance. The caseback is sapphire to allow viewing of the movement.
—Roberta Naas, atimelyperspective.com
Off the Cuff: A. Lange & Sohne Saxonia Automatic
What it's like to spend a week with the Ladies Saxonia Automatic on your wrist.
January 07, 2013

LEFT: The stunning dial of the Saxonia Automatic. RIGHT: Back of the Saxonia Automatic.
Recently, on a three-continent tour with A. Lange & Sohne to witness its newest boutique openings, I had the amazing opportunity to spend the week with the Ladies Saxonia Automatic on my wrist. This watch is beautiful—simply, elegantly, comfortably beautiful.

The 18-karat pink gold watch houses Lange manufacture caliber L086.4 self-winding movement with 209 parts and 31 jewels. Made of untreated German silver, the movement is lavishly and meticulously hand engraved—and visible via the sapphire case back. This proved to be a slight problem for watch-loving me, who kept wanting to take the watch off and look at the movement. It offers 72 hours of power reserve when fully wound and that was just fine—as this was a watch I didn't want to take off my wrist.

From the dial side, the watch is equally as beautiful thanks to the soft-hued pink gold, meticulously set with diamonds on the case and featuring a solid silver white tint faced with mother-of-pearl dial. The watch has a very legible sub-seconds dial with stop seconds on it, and—thanks to the movement and the great Lange & Sohne craftsmanship—it runs like a dream. Beautifully appointed with a hand-stitched white croco strap, the watch is fantastic for day wear and night wear! It retails for $43,100.
—Roberta Naas, atimelyperspective.com
Burberry Brings British Design to the Wrist
The storied British brand debuts an all-new line of timepieces.
December 28, 2012
Burberry—the brand famed for its trench coats—moves to the wrist with an all-new line of timepieces aptly named The Britain. As expected, the collection is a powerful blend of classic tradition and modern attitude. Says Christopher Bailey, Burberry Chief Creative Officer and designer of the line, "The Britain marries our heritage and functional design values with modernity and innovation, creating a watch that is as elegant as it is relaxed."

The design of the watches is all about detail—with iconic influences from the trench coat making their way into the watch via D-rings and dial colors to strong bolts that hold the case much like the hardware that closes the coats. The case shape is a rounded octagonal that is comprised of 32 parts, and is finished with transparent sapphire casebacks on the automatics and with SuperLuminova hands. In the collection: a power reserve automatic, housing a Soprod 9040 mechanical three-hand movement with 40 hours of power reserve and Incabloc shock protection.
The automatic watch houses an ETA 2824 caliber and offers hours, minutes, small seconds, and date; the chronograph consists of a Ronda 5040.D movement. There is also a quartz version. The watches are Swiss made and the mechanical pieces house self-winding movements. The collection retails from $995 for the quartz models to $3,995 for the Power Reserve.
—Roberta Naas, atimelyperspective.com
Watch Works of Art
Miami's women will be proud to display the finery of these watches inspired by our fabulous feathered friends.
August 29, 2012
These avian inspirations make time take flight, combining multiple modes of artistic diligence with enamel work, gem setting, sculpting, and engraving. They are works of art that perfectly reflect nature, giving women the sense of gratification and pride that only a true piece of wearable art can bring. According to Nicolas Bos, president and CEO of the Americas and worldwide creative director of Van Cleef & Arpels, "Miami women have a real appreciation for playful dimension and the miniature reality." These watches certainly deliver that.
CLOCKWISE FORM LEFT: This Cartier Tourbillon watch ($221,000) features a kingfisher in flight on the dark-purple and Tahitian mother-of-pearl dial, bedecked with 210 brilliant-cut diamonds for the wings and 80 cognac-colored diamonds for the body (and an emerald eye). It is finished with blue, orange, yellow, and white enamel. The watch houses the Geneva Seal-certified 9458 MC Caliber with flying tourbillon created in-house by Cartier. Just 60 pieces will be made. 3930 NE Second Ave., Miami, 305-864-8793
From Van Cleef & Arpels, this elegant swan watch ($270,000) is part of the From the Earth to the Moon Constellation collection. It is one of four timepieces that are sold as a complete set with an Extraordinary Cabinet, created in a limited edition of 22 sets ($510,000 per set). This watch is crafted in 18k white gold with enamel work, gold sculpting, and diamonds. Bal Harbour Shops, 9700 Collins Ave., 305-866-0899
Le Vian's Into the Wild Peacock watch ($6,995) features a diamond bezel and a raised diamond dial, set with five carats of diamonds, tsavorites, and blue sapphires to form the peacock in all its feathered glory. The watch is finished with a genuine stingray strap. In a limited edition of 500 pieces. Littman Jewelers, 19575 Biscayne Blvd., Aventura, 350-933-4770
PHOTOGRAPHY BY ANTFARM
by roberta naas
The Omega Speedmaster
A deeper look at the first and only watch ever to be worn on the moon.
October 25, 2011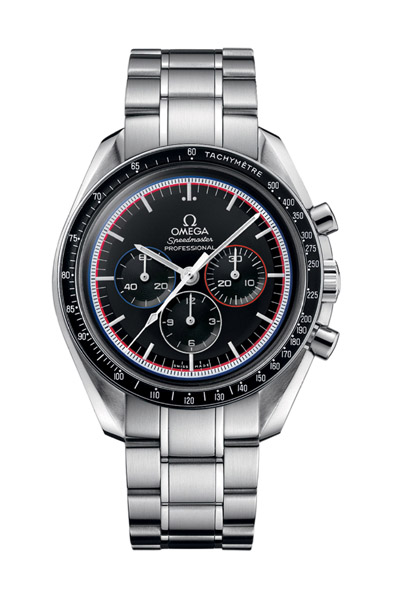 Omega has long been involved in the conquest of space, and has been a part of all six lunar landings.
On March 1, 1965, Omega's Speedmaster chronograph was "flight-qualified by NASA for all manned space missions." That is because the Omega Speedmaster withstood all of the U.S. space agency's severe tests under conditions of zero gravity and magnetic fields, extreme shocks, vibrations and temperatures ranging from -18 to +93 degrees Celsius. It is, to date, the only NASA flight-qualified watch.
Since 1965, Omega Speedmasters have been onboard Gemini missions, Apollo missions and even Skylab. Many recall one of the most significant moments in space history when, on July 21, 1969, the Omega Speedmaster recorded man's first steps on the Moon during the Apollo 11 missions. Omega's Speedmaster is the first and only watch to be worn on the moon. Hence, it has been nicknamed the Moonwatch.
Another significant moment in Omega Speedmaster space timing came in April 1970 with the Apollo 13 mission, when the watch was used to time the reentry and divert potential disaster when certain instruments malfunctioned. The Omega Speedmaster earned the Snoopy Award, the highest distinction awarded by NASA astronauts for that mission.
The Speedmaster was worn on the wrists of both the American astronaut Tom Stafford and the Russian cosmonaut Alexei Leonov during the historic Apollo-Soyuz space rendezvous. This was the first time the cosmonauts also wore the OMEGA Speedmaster. Ever since, the Speedmaster has been the official chronograph of all Russian manned space missions.
Today, Omega continues to be involved in space exploration and discovery. In fact it recently released its new Apollo 15 watch that celebrates the 40th anniversary of that mission, the first in which the Moon Rover was used. The three red, white and blue rings on the dial echo the design of the Apollo 15 Official Mission patch. The 42mm cased chronometer chronograph is created in a limited edition of 1971 pieces (the year of the Apollo 15 mission), and retails for $6,800.
Read more about watches from our timepiece editor Roberta Naas at atimelyperspective.com.
—Roberta Naas
A Watch for Sportscar Enthusiasts
Ralph Lauren's new Sporting Watch collection inspired by Bugatti.
December 02, 2010
When it comes to the inspiration for the newest timepiece in the Ralph Lauren Sporting Watch collection, it's easy to say why Lauren looked to one of the most famous automobiles—the Bugatti—in his own private car collection. "Every Bugatti is in a certain way an art object, from its dashboard to its tooling to its engine," he says. "Every detail on the car is like fine art, or maybe I should say like a very fine watch."
The new timepiece design recalls the interior dashboard and trim of Lauren's 1938 Bugatti Type 57SC Atlantic Coupe: a stainless steel case has a unique dial design in rich elm burl wood, and the black leather strap echoes the car's seats. And a superb mechanical manual-wind movement—courtesy of the legendary IWC brand for Ralph Lauren—matches the iconic look of the watch. (The caliber RL98295 consists of 156 parts, offers 45 hours of power reserve and features Cotes de Genève and perlage finishing on the plate.)
The model is so new that it has yet to be shown to the public at large. Slated for an unveiling at the prestigious Salon International de Haute Horlogerie (SIHH) in Geneva in January, the watch will retail for $13,200 when it reaches US stores.
—Roberta Naas
Behind the Scenes With Giancarlo Stanton
We're behind the scenes with Marlins outfielder, who now has the largest contract in sports history.
Around The Web