The Omega Speedmaster
October 25, 2011 | by —Roberta Naas | Watches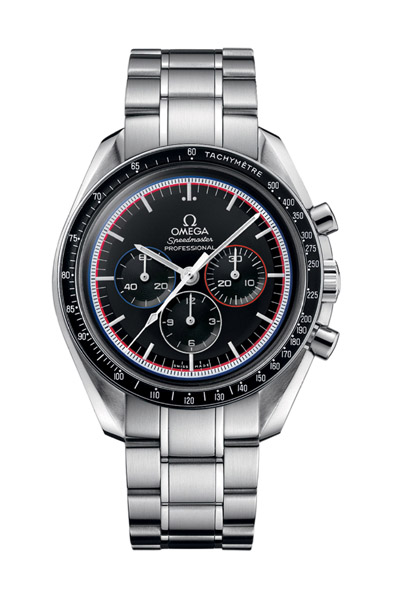 Omega has long been involved in the conquest of space, and has been a part of all six lunar landings.
On March 1, 1965, Omega's Speedmaster chronograph was "flight-qualified by NASA for all manned space missions." That is because the Omega Speedmaster withstood all of the U.S. space agency's severe tests under conditions of zero gravity and magnetic fields, extreme shocks, vibrations and temperatures ranging from -18 to +93 degrees Celsius. It is, to date, the only NASA flight-qualified watch.
Since 1965, Omega Speedmasters have been onboard Gemini missions, Apollo missions and even Skylab. Many recall one of the most significant moments in space history when, on July 21, 1969, the Omega Speedmaster recorded man's first steps on the Moon during the Apollo 11 missions. Omega's Speedmaster is the first and only watch to be worn on the moon. Hence, it has been nicknamed the Moonwatch.
Another significant moment in Omega Speedmaster space timing came in April 1970 with the Apollo 13 mission, when the watch was used to time the reentry and divert potential disaster when certain instruments malfunctioned. The Omega Speedmaster earned the Snoopy Award, the highest distinction awarded by NASA astronauts for that mission.
The Speedmaster was worn on the wrists of both the American astronaut Tom Stafford and the Russian cosmonaut Alexei Leonov during the historic Apollo-Soyuz space rendezvous. This was the first time the cosmonauts also wore the OMEGA Speedmaster. Ever since, the Speedmaster has been the official chronograph of all Russian manned space missions.
Today, Omega continues to be involved in space exploration and discovery. In fact it recently released its new Apollo 15 watch that celebrates the 40th anniversary of that mission, the first in which the Moon Rover was used. The three red, white and blue rings on the dial echo the design of the Apollo 15 Official Mission patch. The 42mm cased chronometer chronograph is created in a limited edition of 1971 pieces (the year of the Apollo 15 mission), and retails for $6,800.
Read more about watches from our timepiece editor Roberta Naas at atimelyperspective.com.
---
Behind the Scenes With Giancarlo Stanton
We're behind the scenes with Marlins outfielder, who now has the largest contract in sports history.
Around The Web